A mood chart is a good way to help you, your doctor, and your family to manage your bipolar disorder. A mood chart is a diary in which you keep track of your daily feelings, activities, sleep pattern, medication and side-effects, and important life events. This chart will help you to better see changes in sleep and mood. More importantly, you will be able to see a pattern of sleep and mood and determine what triggers your episodes of mania or depression (e.g. lack of sleep). At the first sign of these triggers, be vigilant in caring for yourself. Keeping track of medicines, moods, sleep, and feelings over time will help to better manage symptoms and prevent relapses.
A life chart (mood chart) helps you to take a more in-depth historical look at how you have experienced your bipolar disorder since its onset, as well as helping you to keep track of current episodes as they happen.

Life charting can be incredibly useful to help detect patterns in your episodes (for example, some people notice they tend to experience manic or depressive episodes at certain times of the year); to connect the episodes to triggers (for example, drug use, or stressful life events such as relationship difficulties); and to help you and your care providers understand which medications and other treatments have been effective in helping to control your symptoms and prevent further episodes from occurring.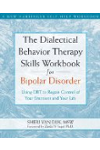 Continue Learning about Living With Bipolar Disorder