If you think you have a bipolar disorder, make an appointment to see a mental health professional who has expertise in the area of bipolar disorder. It's important that you learn whether or not your hunch is accurate. While you're waiting for that appointment, start paying close attention to your daily mood, frequency of mood changes, your daily energy levels and the patterns of your sleep cycle as these are areas that will be explored in detail to help determine the presence of bipolar disorder.
Whether or not you've been diagnosed with bipolar disorder, if you suspect that this is a possibility, it's a good idea to track your emotions for at least two weeks (thirty days is better), paying special attention to the time and circumstances surrounding your feelings and any changes that occur.

This information will be helpful for you in your attempts to manage your symptoms and change your life, and it will also help your mental healthcare provider understand what may be triggering your mood changes. For example, if walking into your workplace every day changes your mood, you may want to explore the reason: Is going to work stressful for you? Do you feel overwhelmed?

Once you understand the root of your unhealthy mood change, you can take steps to prevent it. You may also want to write in a journal, which can feel cathartic and provides more information than a number or a check in a box.

Your log can be helpful if you haven't yet been diagnosed but plan to seek mental healthcare. The information you record will help you understand your day-to-day feelings and take steps toward experiencing more positive emotions and fewer negative ones. It will also help your mental healthcare provider understand the intensity and duration of your emotions.

Make a two-column table to help you keep track of the presence of any bipolar symptoms on a daily basis, and keep this for at least two weeks. Each symptom for depression, mania, and mixed symptoms will be listed in the first column. In the second column, rate the intensity of the symptom for that day on a scale of 0 to 10, with 0 being not applicable and 10 the most intense.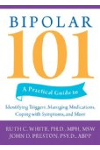 If you suspect that you have a bipolar disorder, seek medical treatment right away. Treating bipolar symptoms early can keep the disorder from worsening. Some strategies that might help include: knowing the warning signs of bipolar disorder and understanding the symptoms of the bipolar depressive state, such as: feeling helpless, hopeless, and worthless; getting too much or too little sleep; having low energy; and having suicidal thoughts. Ask family members and friends to watch your behavior for warning signs of bipolar disorder. Call your doctor at the first symptom of bipolar disorder. Your doctor will prescribe mood stabilizing medications to keep your mood swings from worsening. Avoid all illicit drugs and alcohol. Drinking alcohol or using unprescribed drugs may mask your symptoms and make bipolar disorder more difficult to treat. If you experience side effects with your bipolar disorder medications, call your doctor. Do not stop taking your medications until your doctor makes the changes that work best for you.
Continue Learning about Living With Bipolar Disorder