Many people have stereotypical ideas about the mentally ill and if you have bipolar disorder, they may be unable to reconcile their image of you with their image of a mentally ill person. However, the benefits of letting go of the secrecy are worth the risk of having some people misunderstand. This is an opportunity for you to educate others about your illness, which may actually help reduce stigmatization and discrimination in the long run.

In healthy relationships, we communicate openly and acknowledge our feelings, but all relationships go through difficult periods. Telling others may cause tensions in your relationships, but being open about who you are, and willing to hear and understand how others feel, will ultimately strengthen your relationships.

Some people may have a hard time understanding at first but simply need time and more information to come around. The people who should know are those closest to you, who are likely to have experienced, or experience in the future, the impact of your illness. It's only fair to your loved ones to let them understand why you behaved in ways you did in the past. Some may be slow to warm up to the idea, but now you'll know who your friends really are. Telling no one is not an option! Secrecy fosters the isolation that sabotages symptom management. Everyone needs a support system, because as the saying goes (to paraphrase John Donne's original writing), "No one is an island."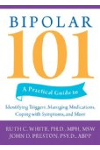 Continue Learning about Living With Bipolar Disorder