Despite all your best efforts, you may still have difficulty falling or staying asleep, and your provider may suggest taking sleep medications that will not only help you fall asleep but also help you stay asleep. Taking sleep medications is a preventive measure against bipolar episodes caused by sleep irregularities, and it reduces daytime drowsiness or irritation from lack of restful sleep.

Taking your prescribed sleep-inducing medications at your goal bedtime may be too late for them to take effect. Instead, after discussing this with your medical provider, you may want to take them about one to two hours before bedtime to give them time to take effect. Avoid over-the-counter sleep medications unless your medical provider recommends them and monitors your use of them, because they may interrupt your natural sleep routine or interact with other medications you're taking. You can take your sleep medications with sleep-inducing herbal tea, such as chamomile, or tepid water to assist in digesting them. This can become a regular part of your medication routine before bedtime.

Sleep is a major issue for people living with bipolar disorder, because changes in sleep habits may trigger a bipolar episode. Lots of people experience insomnia, because it's caused by many factors, including co-occurring conditions and certain medications and behaviors. Insomnia is both a cause and symptom of bipolar disorder, because you can have trouble falling asleep when depressed and need little sleep when manic, but it can be treated with changes in behavior, psychotherapy, or medications. Good sleep habits promote healthy sleep patterns and reduce the frequency and intensity of bipolar episodes.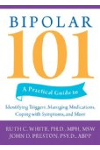 Continue Learning about Living With Bipolar Disorder