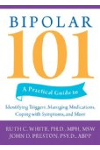 Many charts to track bipolar triggers and moods can be found online. The trackers in the online charts are hard to customize, because they already show all the categories, which makes it hard for you to adapt their tools for your needs. Some such websites are run by pharmaceutical companies; other websites charge for their charts; and others, such as bipolar support organizations, provide them for free. You can also create your own chart.

When you're in the throes of a bipolar episode, the last thing you may want to do is chart moods and triggers. At these times you may find it easier to just jot your feelings in your journal so you can make your chart later. As a last resort, you may choose to simplify your chart to include only the most important information, such as your mood, sleep patterns, medication compliance, and symptoms.

Your chart shouldn't cause you anxiety or be a burden, so customize it to fit your life. No matter how you do it, at the very least, it will give you a better understanding of your illness and therefore will help you work toward minimizing the frequency and intensity of your symptoms, and find ways to deal with symptoms as they arise.