If you have bipolar disorder, your medical and mental health providers are an important part of your support network. They can work with you to develop your treatment plan, and you can use them as a resource in helping you build your support system. If you're in counseling, you can use your sessions to develop strategies for disclosing your mental illness. You can practice what you plan to say during your sessions and possibly even invite loved ones, such as your partner or children, to a session so you can disclose your disorder with your therapist's support. This would allow your loved ones an opportunity to ask your provider questions about the disorder and learn how to become an integral part of your support system.

Your healthcare provider can also help you decide if you need a medical advance directive in case you need to be hospitalized against your will.

Including your support network in your treatment plan is something to discuss with your healthcare provider. He or she can help you determine who'd be the best person to accompany you to therapy visits, medical appointments, or support groups and whom to ask for various types of support.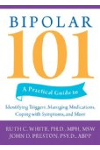 Continue Learning about Living With Bipolar Disorder