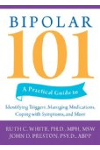 If you have bipolar disorder and if you attend a group exercise program, perhaps a yoga or spinning class, you can develop a friendly relationship with someone who shares your commitment to staying healthy through exercise. If you're only friendly before, during, or after exercise, you may want to extend an invitation for coffee or a smoothie after your exercise class and see how your friendship grows from there. Religious institutions are also good places to find people with whom to develop friendships. Most religious institutions offer opportunities for social networking through various groups or volunteer opportunities.

If you're taking a class and are part of a study group with whom you spend a lot of time, you can include the group as part of your social support network or choose one or two individuals with whom you feel some connection. To begin a friendship, you can start by saying hello to someone you've casually conversed with before, during, or after the class. You can talk about something that happened in class and then extend an invitation for coffee, a movie, dinner, or shopping to find class-related gear or equipment. You may not make a connection on your first attempt, but if you have few friends now, the effort it takes to persist is worth the eventual payoff in social support.

You may also have colleagues at work with whom you've developed a good working relationship. Perhaps you could invite them to a social event, such as bowling or a movie, outside of working hours. Getting involved in volunteer activities can bring you in touch with others who share your interests, and helping others is also a way to prevent or alleviate the symptoms of depression. Joining groups focused on specific interests or activities, such as book clubs, knitting groups, or chess clubs, is a good way to find people with whom you have things in common and therefore can develop supportive friendships.