Providing literature on bipolar disorder will be beneficial, although explaining your experience in your own words might be most powerful. If possible, and if your spouse is willing, consider inviting him/her into a therapy session so he/she may gather information from a mental health professional. Ongoing couples counseling can also assist in resolving concerns and increasing the bonds between spouses.

Consider requesting that your family members accompany you in a session with a mental health professional to learn about bipolar disorder. Of course, you will first want to recruit your therapist's approval and support for this collaborative meeting. Let your therapist assist you in preparing for this process and debriefing reactions afterwards, as it might be a difficult situation. This psycho educational process will provide your family members with greater understanding of your struggle. A foundational understanding of your diagnosis will help family members accept the past behaviors which might have harmed the family dynamic. It will also provide them with tools to comprehend and respond to your mental health symptoms as they arise.

For the younger children in your family, engaging in this process might not be beneficial and may even be detrimental. Again, discuss with your therapist which members of the family should be present for the discussion around your diagnosis. However, all members of the family must be made aware of the matter so that they will be better prepared to handle potential stressors and to provide support to you as needed. There are many books available for young and old alike to help with the education.

Be mindful that it is natural for children to have great difficulty understanding the reason behind your behavior when you are experiencing symptoms. When you are of sound mind, engage in a calm and compassionate discussion with your children. Explain that your past behaviors are not an indication of a lack of love. Show them that you are there for them as a parent now. Your actions today will help counter those of the past. Remember to tailor your conversation to your children's developmental age. If they are able to comprehend more abstract concepts, consider engaging them, along with your spouse and other adult members of your family, in education about bipolar disorder. It might be particularly beneficial to also engage them in family therapy, to help process emotions and reactions and improve the overall household dynamic.
Continue Learning about Living With Bipolar Disorder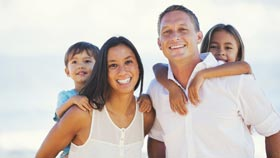 To manage your bipolar disorder on a daily basis, it is essential that your keep your therapy appointments and take your medications as prescribed. If you experience side effects that you find intolerable, discuss them with your d...
octor. It's also important to live a healthy lifestyle that includes regular exercise, plenty of sleep and a nutritious diet to avoid other health risks associated with bipolar. Take steps to reduce stress and surround yourself with supportive friends and family who can intervene during manic episodes. When it's well treated, bipolar disorder should not prevent you from having an enjoyable and successful life.
More