If you have bipolar disorder, here are some tips on asking for help:

1. When considering asking someone for help, consider his or her ability to provide the help you need. Is he familiar enough with your town to help drive you to errands if you need that? Is she attentive enough to adequately take care of your pets or plants? Does his schedule permit him to drive you to and from doctor's appointments? Also consider how much help the person has provided in the past. If she has never seemed interested in providing help to you, you can still ask her, but don't be surprised if she declines. If you need help with your children, select someone who already has a good relationship with them as well as the time and energy to take care of them. You can choose someone else to accompany you on medical visits, help you manage your household, or simply lend an ear.
2. Start your sentences with "I need…" or "I feel…" Follow up with "It would be helpful if you could…" or "This will help me…"
3. Be specific about what you need. For example, if you need help with your children, tell the person when and for how long you need help.
4. Give the person the opportunity to ask questions that will help him or her get a clear understanding of what you need and how best he or she can help.
5. If someone is willing to help, thank him or her for the offer, and if the person can't help you in the way you need, thank him or her for considering it. Don't conclude that someone's inability to help is a reflection of your friendship. Instead it may simply be that the person can't help at that time. Use your emotional support network, including your healthcare providers, to help you deal with any negative feelings you have if, and when, your requests for assistance are rejected.
6. When you get the help you need, remember to thank those who helped you. Be careful to avoid using only one person for social support, because he or she could get tired. Look for multiple sources of support. You'll also get the benefit of different perspectives.
7. Also use local hotlines and support groups, online support groups, and your healthcare provider's on-call staff, if they have one.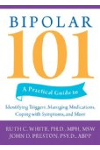 Continue Learning about Living With Bipolar Disorder