Although not something parents like to hear and often experience some resistance to, prescribed medications are the mainstay of treatment for stabilizing the moods in children and adolescents with bipolar disorder. There are several medications approved by the Food and Drug Administration for the treatment of bipolar disorder in children and adolescents. They include lithium, and the second generation antipsychotics (SGAs) Risperdal, Abilify, Seroquel, and Zyprexa. However, it is important to keep in mind that many medications used to treat childhood illnesses, including childhood cancers, may be Food and Drug Administration (FDA) approved for use in adults, but not for use in children. Often times, we extrapolate the use of these medications from adults to children and adolescents. There are several other medications that have been or are used to treat bipolar disorder in children and adolescents with varying degrees of success. They include the anticonvulsants Depakote, Tegretol, Trileptal, Topamax, Neurontin and Lamictal, as well as other SGAs, such as Geodon and Clozaril. Many of these medications are used alone or in combination, depending upon each individual's unique circumstances.

The use of antidepressant medications, such as the selective serotonin reuptake inhibitors (SSRIs), including Prozac, Paxil, Zoloft, Celexa and Lexapro, while often helpful in treating depressive symptoms in children and adolescents, pose serious risks when used in attempting to treat depressive symptoms in the context of bipolar disorder in children and adolescents. Activation, disinhibition, the triggering of a manic episode and the worsening of mood symptoms are not uncommon results. If these medications are to be used, caution and careful monitoring are required.
Continue Learning about Bipolar Disorder In Children & Teens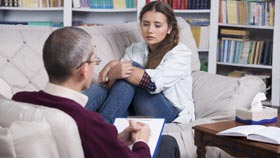 Because children experience symptoms differently from adults with bipolar disorder, and because children often lack adequate language for how they feel, diagnosis of bipolar can be difficult. Symptoms for children include bouts of ...
severe depression, feelings of hopelessness, poor sleep and changes in eating habits. Depression tends to become more common during and after puberty, particularly among girls. Your child's doctor will use a diagnostic assessment, exam and thorough medical history to help in diagnosis. If you think your child may have bipolar disorder, make an appointment with your family doctor to talk about the symptoms you notice.
More