Studies suggest that 40% to 100% of children and adolescents who suffer from a manic episode will usually recover from that episode within one to two years. However, according to the Journal of American Academy of Child and Adolescent Psychiatry, of those who do not recover, up to 60-70% will experience a recurrence of an episode within 10-12 months. In addition, many of these young people will experience frequent fluctuations in their moods, most often with depressed or mixed episodes, on an ongoing basis, aside from the recurrent episodes. The factors associated with a worse outcome over time for these children and adolescents include an early age of onset, a long duration of the illness, mixed episodes, rapid cycling, the presence of psychotic symptoms, a lack of treatment, and poor compliance with medication treatment. About 20-25% of children and adolescents with Bipolar Disorder Not Otherwise Specified (NOS) and Bipolar Type II are likely to progress to the Bipolar Type I Disorder in adulthood. Between episodes, many of these young people experience what are called "subsyndromal" symptoms of bipolar disorder, or mood and behavioral symptoms that are beyond what would be considered normal, but not severe enough to reach the level of a full blown episode. For children and adolescents, 30% of the time, full blown mood shifts between mania and depression will likely occur one time or less per year, while 50% of the time, the mood shifts will likely occur more than five times per year. Almost 40% of the time, the mood shifts between depression and mania will occur more than 10 times per year, and in 24%, they will occur more than twenty times per year.
Continue Learning about Bipolar Disorder In Children & Teens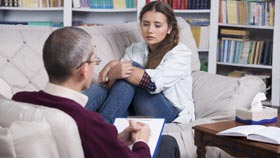 Because children experience symptoms differently from adults with bipolar disorder, and because children often lack adequate language for how they feel, diagnosis of bipolar can be difficult. Symptoms for children include bouts of ...
severe depression, feelings of hopelessness, poor sleep and changes in eating habits. Depression tends to become more common during and after puberty, particularly among girls. Your child's doctor will use a diagnostic assessment, exam and thorough medical history to help in diagnosis. If you think your child may have bipolar disorder, make an appointment with your family doctor to talk about the symptoms you notice.
More