Anxiety disorders, major depressive disorder, schizophrenia, autism spectrum disorders, post-traumatic stress disorder, and attention deficit hyperactivity disorder (ADHD) are some of the common psychiatric conditions that can present with symptoms that may be confused with, or co-occur with bipolar disorder in children and adolescents.
Often, those with Childhood-Onset Bipolar Disorder are diagnosed with other mental health disorders, known as comorbid conditions. These other diagnoses can mask or co-occur with Bipolar Disorder:
attention-deficit disorder with hyperactivity (ADHD)
disruptive behaviour disorders
anxiety disorders
substance abuse
developmental and intellectual disabilities
In adolescents, bipolar disorder is often misdiagnosed as borderline personality disorder, post-traumatic stress disorder (PTSD), or schizophrenia. Studies have indicated between 40-90% of children with bipolar disorder also have ADHD, and around 50% have comorbid conduct disorder.
Continue Learning about Bipolar Disorder In Children & Teens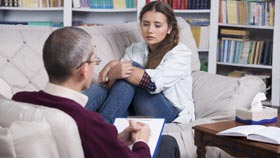 Because children experience symptoms differently from adults with bipolar disorder, and because children often lack adequate language for how they feel, diagnosis of bipolar can be difficult. Symptoms for children include bouts of ...
severe depression, feelings of hopelessness, poor sleep and changes in eating habits. Depression tends to become more common during and after puberty, particularly among girls. Your child's doctor will use a diagnostic assessment, exam and thorough medical history to help in diagnosis. If you think your child may have bipolar disorder, make an appointment with your family doctor to talk about the symptoms you notice.
More