Find a pediatrician or child psychiatrist (or pediatric psychiatrist) who specializes in mood disorders. Be persistent in finding someone who has had extensive experience with children manifesting symptoms of all kinds of mood disorders. Ask the doctor or pediatric psychiatrist whether they've treated any children with pediatric bipolar disorder before. Ask them their opinion of the debate surrounding this mood disorder.
Continue Learning about Bipolar Disorder In Children & Teens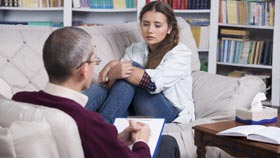 Because children experience symptoms differently from adults with bipolar disorder, and because children often lack adequate language for how they feel, diagnosis of bipolar can be difficult. Symptoms for children include bouts of ...
severe depression, feelings of hopelessness, poor sleep and changes in eating habits. Depression tends to become more common during and after puberty, particularly among girls. Your child's doctor will use a diagnostic assessment, exam and thorough medical history to help in diagnosis. If you think your child may have bipolar disorder, make an appointment with your family doctor to talk about the symptoms you notice.
More