The treatment of children with bipolar disorder usually starts with the family. "Rather than only talking to the child, it's very important to get family members involved in the process of providing information to make the diagnosis and later to manage the disorder," says David J. Miklowitz, PhD, director of the Child and Adolescent Mood Disorders Program at UCLA. "We usually start with medications, such as mood stabilizers, anti-psychotics or drugs to manage attention-deficit disorder or improve sleep, but our research shows that combining medications with therapies that involve the family is usually the most effective regimen for staving off future episodes."

Psychotherapy includes family intervention to teach children and parents how to recognize early warning signs of relapse, identify important stress factors that play a role in recurrences, communicate better as a family and solve family problems. According to Dr. Miklowitz, compared with those who receive medication alone, children who receive both medication and family therapy recover from episodes more quickly, feel well more often, experience less severe depression symptoms and report more life satisfaction.

He emphasizes that early intervention is important and that parents should seek a diagnosis from qualified professionals as soon as they suspect their child has bipolar disorder or some other mood disorder. "As with any illness, bipolar disorder can get worse over time," Dr. Miklowitz explains. "The earlier we can get kids on an effective treatment regimen, the better the long-term outcome will be."
Guidelines indicate that for treatment of bipolar disorder in children and adolescents, combination treatment (medications and psychotherapy) is recommended:
Maintenance Therapy: Medications such as lithium, divalproex sodium, or carbamazapine are most commonly used to treat children and adolescents; risperidone and aripiprizole were recently approved in the U.S. for use in children and adolescents in the U.S.
Treatment of Acute States (mania and depression): Additional medications are also needed to treat the acute phases of the disorder. Because of the severity and complexity of the disorder in young children and adolescents, many treatment pathways are used.
Overall Treatment of the Disorder: Once a child is stabilised with medication, therapy can help build skills and provide families with the information and support they need to help their child or adolescent. A comprehensive and coordinated approach to medication and psychotherapy is recommended for optimal care for children and adolescents with bipolar disorder.
Continue Learning about Bipolar Disorder In Children & Teens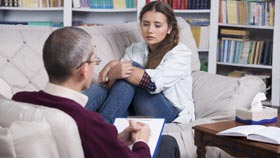 Because children experience symptoms differently from adults with bipolar disorder, and because children often lack adequate language for how they feel, diagnosis of bipolar can be difficult. Symptoms for children include bouts of ...
severe depression, feelings of hopelessness, poor sleep and changes in eating habits. Depression tends to become more common during and after puberty, particularly among girls. Your child's doctor will use a diagnostic assessment, exam and thorough medical history to help in diagnosis. If you think your child may have bipolar disorder, make an appointment with your family doctor to talk about the symptoms you notice.
More