Onset of the bipolar illness is often triggered by major life events that cause stress, which can trigger either a manic or depressive episode, depending on the person and how stress impacts him or her. Here are some examples of stressful life events:

- The death of someone close to you.
- Divorce or loss of a romantic partner.
- Difficult personal relationships.
- Getting married.
- Going away to college.
- The birth or illness of a child.
- Problems at school or work.
- Financial difficulties.
- A change in employment, such as starting a new job or losing one.
- Moving, especially to a new place without an established support system.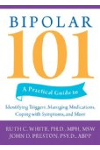 Continue Learning about Bipolar Disorder Causes & Risk Factors