Most mental health professionals believe that mental illness in general is caused by a combination of several factors working together. In bipolar disorder, these causal factors are usually divided into biological (including genetics and physical characteristics) and psychological issues (including the stressors in our lives, how we deal with emotions, and the way we think about things).
Research has found a strong genetic component to bipolar disorder – that is, to some extent, bipolar is inherited. For example, the concordance rates from studies of identical twins varies from 50% to almost 100% - in other words, if one twin has bipolar disorder, the other is 50 to 100% likely to also have it. But this is clearly not the only link, since being an identical twin does not guarantee that both siblings will either have or not have bipolar disorder.
In recent years, developments in technology such as MRI scans have allowed researchers to study the brains of people with bipolar disorder. While one single cause hasn't been determined, abnormalities have been found in areas of the brain that are thought to be related to different aspects of emotional behavior. So, while we still don't know exactly what the biological links are, it is widely accepted that they do play a part.
Among the psychological issues, stressful life events (eg. a death, birth, loss of job) and the way a person copes with these stresses are thought to be the main elements that lead to the onset of symptoms in bipolar disorder. Once the disorder is triggered, it progresses and develops a life of its own.
So it's clear that we can't put our finger on one cause of bipolar disorder. Instead, the best explanation according to the research available at this time is what the Diathesis-Stress Model. This means that a person has a physical condition (or a gene) which makes him more than usually susceptible to certain diseases. Just because this vulnerability is present, however, doesn't guarantee that the person will develop the illness – it must be triggered by something (a stressor) in order for this to happen.
According to this model, each person inherits certain physical vulnerabilities to problems that may or may not appear depending on what stresses occur in his life. So, the bottom line according to today's thinking is that if you have bipolar disorder, you were born with the possibility of developing the disorder, and an event took place in your life to set it off.
There is no single cause for Bipolar Disorder; instead, many factors appear to work together to cause the illness, including genetics (the disorder is one of the most heritable of all of the mental illnesses), brain functioning, and environmental factors. Over the past decade, several genes have been linked to Bipolar Disorder; studies have been repeated in several countries, strengthening the results. Teams of international researchers continue to learn how these genes interact with other factors to actually cause the disorder. The hope is to target the enzyme produced by one of these genes, which may lead to the development of new and more effective treatments.
Bipolar disorder may be caused by a number of different factors. The condition tends to run in families, so it is believed to be hereditary. Biochemical factors also play a role, as people with this disorder often have an imbalance in brain chemicals and various other changes in their brains. People with hormone imbalances may also be more likely to have bipolar disorder. Finally, the environment may play a role, in that people with this condition have often experienced significant trauma or stress.
Experts aren't sure what specifically causes bipolar disorder. We know that genetics plays a large role in the illness because you are more likely to "be bipolar" if a parent or sibling has bipolar disorder. Also, researchers believe that bipolar disorder may be caused in part by an imbalance in any or all of the following brain chemicals known as neurotransmitters: norepinephrine, serotonin, and dopamine.
The cause of bipolar disorder is not entirely known. Genetic, and environmental factors may interact at many levels to play a role in the onset and progression of bipolar disorder. This may be a disorder that occurs in the brain and could be due to a breakdown of the neurotransmitters.
No one knows what causes bipolar disorder. Experts do know that the disease runs in families, so it appears that a predisposition is passed along in the genes. There is some evidence that certain brain chemicals called neurotransmitters, do not work properly in people with bipolar disorder. There is also evidence that highly stressful events can trigger symptoms of bipolar disorder. That may also be true of some drugs, including alcohol, cocaine, and certain antidepressants.
Hello!
I believe that bipolar is 100% genetic. This doesn't mean it isn't triggered by many things. For example, anti-depressants can bring out latent bipolar and relationship troubles can lead to serious mood swings.
Drug and alcohol abuse, work troubles and travel, just to name a few can also trigger mood swings, but I don't believe they can cause the illness unless it's genetically present.
I've heard from tens of thousands of people with bipolar disorder and in most cases, people found a person in the family tree with a form of a mood disorder.
"Oh, I remember my mom couldn't get out of bed when I was in high school. She ate potato chips and watched soaps all day."
"I had an uncle that got married five times and could never stay in one job."
In my case, I know from experience that bipolar disorder is genetic. It's all over my family. Grandfather, brother and cousins.
I believe that if an illness follows a very specific pattern in all people with the illness, including age of onset, it's genetic.
If it affects people the same away all over the world and equally between men and women, it's genetic.
And if it can be easy to diagnose once you have a psychiatric assessment as in the case of bipolar disorder, it's genetic.
If you can pass the exact illness to your children, it's genetic.
And finally, if it is life long as bipolar tends to be, it's genetic.
It helped me a lot to know that my bipolar disorder is genetic. It's not my personality- nor does it represent how I look at life. It's an illness.
If you have bipolar disorder, it's nothing to do with you. How you manage the illness has EVERYTHING to do with you!
Julie
PS: Let's work together and educate all health care professionals that a personal and family mania screening should be done when prescribing all anti-depressants! Releasing bipolar by taking the wrong medication is a terrible thing.
Scientists are learning about the possible causes of bipolar disorder through several kinds of studies. Most scientists now agree that there is no single cause for bipolar disorder—rather, many factors act together to produce the illness.

Because bipolar disorder tends to run in families, researchers have been searching for specific genes—the microscopic "building blocks" of deoxyribonucleic acid (DNA) inside all cells that influence how the body and mind work and grow—passed down through generations that may increase a person's chance of developing the illness. But genes are not the whole story. Studies of identical twins, who share all the same genes, indicate that both genes and other factors play a role in bipolar disorder. If bipolar disorder were caused entirely by genes, then the identical twin of someone with the illness would always develop the illness, and research has shown that this is not the case. But if one twin has bipolar disorder, the other twin is more likely to develop the illness than is another sibling. In addition, findings from gene research suggest that bipolar disorder, like other mental illnesses, does not occur because of a single gene. It appears likely that many different genes act together, and in combination with other factors of the person or the person's environment, to cause bipolar disorder.

Finding these genes, each of which contributes only a small amount toward the vulnerability to bipolar disorder, has been extremely difficult. But scientists expect that the advanced research tools now being used will lead to these discoveries and to new and better treatments for bipolar disorder.
The use of new brain-imaging technology, such as magnetic resonance imaging (MRI), positron-emission tomography (PET), and functional magnetic resonance imaging (fMRI), have begun to give clues to the process of bipolar disorder in the brain. These technologies have revealed differences in the brains of people with bipolar disorder and those of people without the disease.

The body of research on bipolar disorder points to instability in the transmission of nerve impulses in the brain, which is related to the brain's biochemistry. This tendency toward mood instability is considered to be genetically transmitted. People with this biochemistry are more vulnerable to emotional and physical stresses, and the negative impact of stress on treatment is reduced effectiveness. Stress is also a major trigger for the onset of symptoms.

Although the cause of the disease has not yet been identified, the known triggers for episodes are amenable to intervention and prevention. The major triggers are lack of sleep and high levels of stress. Trauma has also been known to trigger bipolar episodes.

Recent studies have found that childhood trauma does not directly cause -- but does hasten -- the onset and severity of bipolar disorder. Children who had been abused were more likely to have early onset, in adolescence or earlier.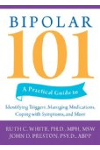 Most scientists now agree that there is no single cause for bipolar disorder. Rather, several factors may act together to produce it. Genetics are almost certainly involved. Why do we think so? Bipolar disorder runs in families. In fact, 80% to 90% of people with this illness have a relative with depression or bipolar disorder.

But genetics aren't the only cause. If they were, identical twins would always develop the disorder together -- and research shows that they don't. Most likely, the disorder is "triggered" in a person who already has a genetic tendency toward it. Possible triggers include physical conditions (like pregnancy) or very stressful life events.
No one knows what causes bipolar disorder but genetics, environment and psychological factors may contribute to a person's risk for the disease. People with a brother, sister or parent with bipolar have a greater risk of having the disease. Risk of having the disease is especially high if a person's identical twin has bipolar. It is not clear if stressful experiences increase a person's risk of having bipolar disorder.
Continue Learning about Bipolar Disorder Causes & Risk Factors