Across the United States daily activity levels continue to decline. People are less active and are no longer spending as much of their free time engaged in physical activity. This is related in part to lack of physical activity in leisure time, but is even more likely the result of people spending increasing amounts of time in sedentary behaviors such as watching television and using computers, and excessive use of passive modes of transportation.
In addition, today, more people work in offices, have longer work hours, use better technology and automation, and are required to move less daily. This new environment produces more sedentary people, and leads to dysfunction, including chronic disease and musculoskeletal injuries.
Society does not make it easy to be physically active. Most of the messages we receive from the culture around us reinforce our addiction to sedentary living, particularly as we grow older -- all those urgings to "take it easy" and to buy more and more labor-saving devices. At the same time, tight budgets have forced cities nation-wide to cut funding for recreation facilities, and our devotion to the automobile has created urban and suburban environments that are decidedly hostile to walkers, joggers, cyclists, and other active types, while the distribution of services and lack of mass transit make our dependence on automobiles virtually unavoidable.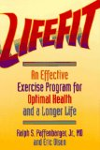 Continue Learning about Benefits of Regular Exercise