Over a long period of time, if you remain consistently active, profound physiological changes take place, including increased vascularization of the working muscles, increased muscle strength, and improved cardiac function. You'll be able to perform more work with the same perceived effort, and you'll also be much healthier with a lower risk of heart disease, stroke, type 2 diabetes, depression, and perhaps some types of cancer. You'll add years to your life and life to your years.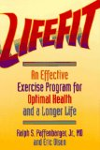 Regular exercise is one of the most important things you can do for health. Participation in physical activity improves several body functions. These include: weight control, decreased risk of cardiovascular disease, decreased risk of diabetes, reduced risk of cancer, improved strength of bones and muscle, enhanced emotional status, decreases the natural degenerative changes that come with aging, and increases your chances to live longer.
That said, being consistently active can actually cause degeneration. Rest and recovery periods are essential as these periods allow the body to repair and rebuild itself. Consistently exercising can lead to overuse injury. Be sure to discern between consistently exercising and regular exercise.
Continue Learning about Benefits of Regular Exercise