Clinical Psychologist Dr. Ramani Durvasula discusses the psychological benefits of exercise. Watch Dr. Durvasula's video for tips and information on overall health and wellness.
The research states that exercise provides an enhanced mood (feeling more positive and better able to deal with situations that come up), more clear thought process (the ability to think more quickly and make better decisions), better sleep (falling asleep more quickly, longer periods of deep sleep and feeling more refreshed in the morning), reduced stress (things are less stressful and dealt with in a less stressful way), less anxiety (situations are less anxiety provoking and anxiety is dealt with in a more efficient way)and improves levels of depression (exercise improves mood, alleviating one of the top symptoms).

Although the benefits of physical activity on chronic disease states (e.g., cardiovascular disease, diabetes, cancer) and obesity have received most of the attention, interest in exercise for the promotion of mental health continues to grow. Research has shown that engaging in physical activity reduces the probability of developing, and reduces the severity of, disorders such as depression and anxiety while reducing cognitive functioning deficits associated with aging. Perhaps most importantly, we now know that regular physical activity is linked to improvements in positive psychological states such as confidence, subjective wellbeing, vitality, and body image. Although there is still much debate as to the specific reasons for the psychological benefits of exercise, the overwhelming evidence supports the relationship between positive mental health and physical activity and provides yet another reason for people to commit to being active.
Exercise is not only good to alleviate and diminish health concerns such as high blood pressure or diabetes but it allows you to perform daily activities more easily. Exercise helps keep you healthy and strong in body, mind and spirit. Exercise also helps diminish and alleviate existing health conditions. Exercise allows people to sleep better. It's effective for depression, anxiety and helps alter moods to positive levels. Physical activity provides biochemical changes in the brain, increasing the concentration of positive neurochemicals such as endorphins and serotonin. Exercise is also positively associated with changes in brain wave activity allowing for a more calm mental state.
Simply understanding that, through exercise, you can mitigate some of the harmful effects of stress can give you a sense of control. Exercise also teaches strategies that further strengthen your sense of control. For example, psychologists note that much of what constitutes stress in our lives results when we don't examine our own thinking patterns around an issue that may be causing problems. An activity such as running or walking becomes a time-out, a chance to think about things you might not have seen at the time of stress, things that might help you cope more effectively with the situation.

Exercise also builds self-esteem, an important weapon against stress. When your self-esteem or your confidence are low, even minor, distasteful situations can become sources of stress. As you exercise and begin to feel better about yourself, your ability to cope with stress may improve. And as you exercise and become leaner, faster, stronger, and fitter, you gain a profound sense of control over your body that may translate into an improved sense of control over all aspects of life; and again, a sense of control is your most powerful weapon against stress. Even if you can't escape from the stress of rush-hour traffic, income taxes, or the prime-time news, simply knowing that later you can take time out for yourself, and take control of one aspect of your life by doing something that is good for you, might in itself help mitigate the stress response.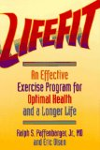 Continue Learning about Benefits of Regular Exercise