How does increased physical activity affect the brain?
There are several ways exercise can improve the brain. First exercise will increase blood flow to the brain, providing the brain with essential nutrients such as glucose and oxygen. Abnormal glucose tolerance can lead to brain impairments, and exercise helps regulate blood sugar levels.
In children, exercise has been shown to improve cognitive function, and improve motor skill development. Children who are active do better on standardized tests and have better grades. In adults, especially as we age, regular physical activity increases memory and slows the aging process of the brain. Studies show that very active people who engage regularly physical activities have much lower rates of memory loss, dementia, Alzheimer's and do better on cognitive function tests over time.
Not only does the chemistry of the brain change with increased physical activity and improved cardiovascular performance, but physical changes appear to take place in the brain that correspond to physical changes in the rest of the body. Just as blood vessels in the working muscles increase in size, and just as there's a proliferation of new vessels to carry more blood, likewise there's an increase in the size and number of blood vessels that serve the brain.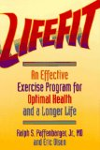 Continue Learning about Benefits of Regular Exercise