Exercise is absolutely beneficial for reduction of anxiety and stress. An article posted in the July 11, 2011 Health section of the New York Times cites several research articles, which show why exercise makes us feel good. Many other research studies have shown that exercise can actually reduce stress.
Exercise has been shown to decrease resting heart rate, reduce blood pressure, reduce levels of the stress hormone cortisol, all of which help to decrease the physiological causes of stress in the body. Exercise has also been shown to release endorphins and catecholamines, which are "feel good" hormones that also help reduce stress and increase feelings of well-being.
The power of exercise in reducing stress is well known. But here's something you might not have known: exercise makes your blood circulate more quickly, transporting the stress hormone (and fat-friendly) cortisol to your kidneys and flushing it out of your system. Remember, cortisol encourages your body to store fat -- especially visceral fat -- that releases fatty acids into your blood, raising cholesterol and insulin levels and paving the way for heart disease and diabetes. One study found that 18 minutes of walking three times per week can quickly lower the hormone's levels by 15 percent!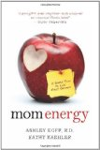 More About this Book
Mom Energy: A Simple Plan to Live Fully Charged
       From celebrated dietitian Ashley Koff and fitness trainer to the stars Kathy Kaehler comes Mom Energy, an exciting new way for moms to tap into their own natural and renewable sources of...
Continue Learning about Benefits of Regular Exercise