When exercising, your brain makes a substance called brain-derived neurotrophic factor, which is a type of brain food. Studies have found that active people are more likely to be better adjusted and perform better on tests of cognitive function. And scientists believe this exercise-induced "brain food" is the reason.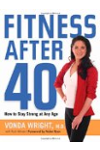 More About this Book
Fitness After 40: How to Stay Strong at Any Age
It's one of the undeniable facts of life. After we reach a certain age, our bodies change. No matter how fit we may have been at 20, we're very different people after 40. But growing older doesn't...
There are several ways exercise can improve cognitive function. First exercise will increase blood flow to the brain, providing the brain with essential nutrients such as glucose and oxygen. Abnormal glucose tolerance can lead to brain impairments, and exercise helps regulate blood sugar levels.
In children, exercise has been shown to improve cognitive function, and improve motor skill development. Children who are active do better on standardized tests and have better grades. In adults, especially as we age, regular physical activity increases memory and slows the aging process of the brain. Studies show that very active people who engage regularly physical activities have much lower rates of memory loss, dementia, Alzheimer's and do better on cognitive function tests over time.
Simple coordination based exercises not only improve your coordination but they can also improve your brain function and learning.
There are indications that major nervous system development and organization continues throughout life, although mostly this occurs in the first 5 years of life.
In the early months of life your movement is unilateral or 'same sided'. That is, the arm and leg on the same side of the body extend and flex together to create movement, so that when your right arm moves forward so does your right leg. At about six months of age you develop a cross crawl pattern where the opposite arm and leg flex and extend together. So that when your right arm moves forward your left leg does. This cross crawl pattern is correct coordination and you will use this for the rest of your life unless it becomes impaired.
Brain exercises and physical coordination are benefits of physical activity such as coordination exercises because mind and body are connected. Certain physical coordination and occupational therapy activities support learning, especially reading fluency and comprehension.
Continue Learning about Benefits of Regular Exercise