Exercise affects all parts of your body, including your brain. Your brain is made up of billions of cells, called neurons. When you're active, your brain can make new neurons. Your brain is your center of learning and memory. Being active boosts your concentration and memory.
Serotonin and dopamine are chemicals that make you feel happier and less stressed. The more you exercise, the more of them your brain will make.
The brain has this amazing ability to remodel and rewire its communication system among neurons so we can learn. A study showed a difference in brain matter between those who exercised regularly and those who did not. The exercisers had more white and gray matter than the non-exercisers (white and gray matter is made up of brain neurons). These results indicate that exercise is protective of and helps preserve brain matter. Regular aerobic (aka cardiovascular) exercise increases brain plasticity (the brain's ability to acquire new knowledge and to learn) and reduces age-associated declines in cognitive function. In addition, scientists believe that regular exercise may repair or restore an aging brain, enhance cognitive performance and improve memory.
Exercise increases levels of brain-derived neurotrophic factor (BDNF), a compound found naturally in the brain that boosts synaptic activity (instant messaging in the brain) and supports the growth and survival of brain neurons. When you are engaged in heart-pumping activity, you are pumping up BDNF levels and thus pumping up your brain power, learning ability and memory. Scientists do not know exactly why exercise has such a positive effect on both young and old brains. They speculate that it may have something to do with increased levels of BDNF and catecholamines and increased circulation (more blood to the brain). All we really need to know is that exercise improves cognitive function and boosts brain performance and memory.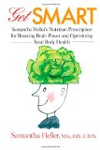 Research published in 2003 by the Georgia Institute of Technology found that the sense of well-being, stress reduction, pain relief, and even that "floaty" feeling post-exercise was due to the release of molecules called endocannabinoids. These molecules, made by the exercising body, act on the brain in a similar way that smoking marijuana does and leaves us feeling the post-exercise bliss. Exercise is the wonder tool for connecting our body, brains, and bliss in the short term. Since the early 1990s, neuroscientists have known that exercise increases the release of a neurotrophin, or brain-derived neurotrophic factor (BDNF). BDNF "fertilizes" existing neurons to function better and stimulates the growth of new nerve cells for long-term brain health. And all this comes from just a little run in the park.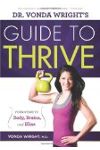 The psychological benefits of exercise are well documented. Some of the proposed psychological benefits of exercise include promoting a positive mood, reducing stress, improving sleep, and reducing depression and anxiety. New research has also shown exercise to help improve cognitive function and memory. Exercise may also boost serotonin levels in the brain resulting in a calming, soothing affect.
High-intensity exercise not only raises your metabolic rate, it also promotes positive changes in the brain. Specifically, studies have found that it helps regrow neurons that diminish the symptoms of the chronic progressive neurological disorder Parkinson's disease. More vigorous physical activity at any age increases your hippocampal size and your brain connections (whether or not you have Parkinson's).
Get your heart rate up to 85 percent of your age-adjusted maximum for 20 minutes three times a week, and you'll see the maximum benefit. (To determine your age adjusted maximum heart rate: subtract your age from 220; for greater accuracy, subtract 64 percent of your age from 211.)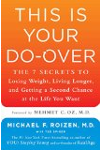 More About this Book
This Is Your Do-Over: The 7 Secrets to Losing Weight, Living Longer, and Getting a Second Chance at the Life You Want
From one of America's most trusted physicians and the bestselling coauthor of the YOU series with Dr. Mehmet Oz—this practical and empowering guide shares the seven secrets to losing weight, restoring peak vitality, and regaining optimal health at any age.No matter whether you're a stressed-out workaholic, a couch potato, or a marshmallow addict, it's never too late to get a second chance. You do not have to let genetics or bad choices of the past dictate your health outcomes. In fact, you have the power to change your body—as well as which of your genes are switched on—no matter how you've lived in the past.In This Is Your Do-Over, Dr.Michael Roizen, four-time New York Times #1 bestselling author and renowned Chief Wellness Officer of the Cleveland Clinic, provides the tools you need to slam the brakes on bad health and press the gas pedal to good health. In the book, he addresses all the areas that contribute to total-body wellness, including nutrition, exercise, sex, stress, sleep, and the brain. Using concrete strategies that anyone of any age can use, Dr. Roizen shows you how to change your heath destiny with his seven simple secrets to earning a Do-Over. He even shares the key step missing in most other programs: how to select and partner with the proper buddy or coach to get you to your goals. Grounded in cutting-edge scientific research and culled from Dr. Roizen's experience coaching thousands, This Is Your Do-Over is the ultimate guide to reversing damage, optimizing health, and living a life filled with energy and happiness. It is not too late; your Do-Over starts now.
Continue Learning about Benefits of Regular Exercise