Good posture is good for all of your organs including your skin, and it promotes good circulation.
While sitting down with your legs straight in front of you, sit up as straight as possible by pressing your erector spinae and latissimus dorsi forward. You should be able to feel the bones at the bottom of your pelvis on the floor if you rock gently side to side. These bones are called the tuberocities of the ischium.
Raise your arms over your head and bring them in so they touch your ears.
Pull down on the trapezius muscles in your back so that your arms are no longer able to touch your ears. Hold for ten seconds. Relax. Repeat. Do this four times. Note that the muscles of your back which contribute to good posture require longer contractions and more repetitions to achieve results than do your facial muscles.
Stand up and repeat the trapezius contractions while also contracting your abdominal muscles.
Do the following shoulder roll at least once a day and any time you sense that you are sliding back into a slumped shoulder posture.

1. In a seated position, let your shoulders relax.

2. Flex your chest (pectoralis) muscles by bringing your shoulders forward.

3. In a continuous motion, flex your trapezius muscles (between your neck and shoulders) by raising your shoulders up.

4. Finally, squeeze the muscles between your shoulder blades and bring your shoulders back and down.

When doing this exercise, keep your upper back muscles contracted and your shoulders back. Your chest should be raised with your shoulders in this position. You may notice that you are sitting higher in your chair, and it should feel great. Do this rotation four times, and then try to maintain this upright posture throughout the day. You may even want to stand sideways in front of a mirror and notice your improved posture!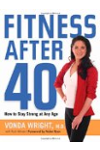 More About this Book
Fitness After 40: How to Stay Strong at Any Age
It's one of the undeniable facts of life. After we reach a certain age, our bodies change. No matter how fit we may have been at 20, we're very different people after 40. But growing older doesn't...
Two great exercises to improve posture are the Ball Combo and chin tucks. To perform the ball combo lie face down on the ball and extend your arms, in line with your body as if you're making a Y. Next, slowly move your hands down towards your backside, and once there, hold this position for one count. Then, move your hands all the way down, towards your feet. Once there, hold for a count, and then slowly move back up to the starting position. Repeat this for 12-15 repetitions and be sure to focus on squeezing your shoulder blades together as you're performing this exercise.
Another great exercise is chin tucks. To perform this exercise, sit with your back next to a wall. Slowly attempt to push the back of your head into the wall. Keep your head straight and be sure you do not bend your head forward or backward. Hold in this position for 3-5 seconds and release.
Continue Learning about Benefits of Regular Exercise