Researchers found that exercise excited a gene for a nerve growth factor called VGF. VGFs are small proteins critical to the development and maintenance of nerve cells. Even more fascinating is the fact a study brought to light 33 VGFs that show altered activity with exercise, the majority of which had never been identified before.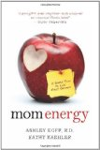 More About this Book
Mom Energy: A Simple Plan to Live Fully Charged
       From celebrated dietitian Ashley Koff and fitness trainer to the stars Kathy Kaehler comes Mom Energy, an exciting new way for moms to tap into their own natural and renewable sources of...
Yes, exercise can stimulate nerve growth. The principle of specificity states that the body will adapt to the type of demand placed upon it. This includes increasing motor unit recruitment and motor unit firing rate.
A recent study published in the January 2012 edition of Neurology showed that immobilization caused a reduction of gray and white brain matter tissue that was responsible for motor control. It is stated that low grade isometric exercise can stimulate nerve growth and prevent loss of gray and white matter of the brain.
Continue Learning about Benefits of Regular Exercise