This answer will vary on each individual. For some, outdoor walking is better and for others, they prefer indoors. Both have benefit and will be better than doing neither.
Some enjoy walking indoors while others truly enjoy outdoors. When walking on a treadmill remember that the treadmill will not stop if you decide to. If outdoors, you may stop at any time. When on a treadmill, you are stuck walking straight and have little room to move side to side. When you walk outdoors you are able to go side to side, and forwards and backwards. On the other hand, when winter comes, walking indoors will be your best bet.
Again, much will depend on which you would prefer to complete. I would prefer outdoors but as long as you are active then both will work great! Enjoy!
Although they have the same effect, walking outside is more interesting. You get to sight see and exercise at the same time. On a treadmill you know exactly what you are going to do and when. You are controlling the resistance and the incline so you know what to prepare yourself for. On an outdoors venture you do not have that kind of ontrol. Unless you are familiar with the course it is all a surprise to you. To me that is what makes it fun. But then I have been told I have a warped sense of "fun".
If your mind does not know what is next then neither do your muscles. So now you are hopefully waking up muscles that have been used in awhile, which is definitely a good thing.
Walking through a neighborhood or park is much more refreshing than trudging on a treadmill in the basement. Medical research shows greater physical benefits and exercise enjoyment when walking in the park or neighborhood compared with treadmill walking. Researchers at Wake Forest University in North Carolina compared responses to two walking programs - one using a treadmill and one walking in a neighborhood, park, or mall. Walking on the treadmill resulted in a slower pace, shorter strides, and a more negative attitude about the exercise. This study proved what anyone who has walked on a treadmill knows - it's tedious and boring! Walking outdoors or even in a mall, however, provides added distractions to keep our attention focused off of ourselves, allowing us to walk more briskly and with greater enthusiasm and pleasure.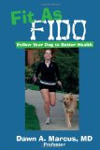 More About this Book
Fit As Fido: Follow Your Dog to Better Health
Let your dog teach you to live a happier, healthier, and more fulfilling life! Companionship with your pet can be used as a means and a motivator to increase your own physical and mental fitness....
Continue Learning about Benefits of Walking