Walking is one of the first activities that humans learn, so it must be good. It is scientifically proven that walking has mental and physical benefits. It does help your mind clear and just like any other exercise it can help your mood levels and make you happier. Physiological and physical benefits include weight loss, increases in cardiorespiratory efficiency; it decreases the risk of osteoporosis and maintains your balance. If you walk to most places you will save money in transportation and help with the environment. Walking is an essential part of our life. It keeps you independent enough for activities of daily living. Start walking every day and you will see the mental and physical benefits all your life.
Walking is great for your brain, body and stress level. Here's some good news: It's even better than you think.
Walking goes after belly fat. Been wondering whether strength training or aerobics (brisk walking, biking, swimming, dance classes) is better for flattening abdominal fat? Aerobics busts up abdominal fat -- the deep, risky, "visceral" belly fat that raises your risk for diabetes and heart disease.
Walking adds years to your life. To get more life out of your walks, just pick up the pace. You don't have to walk any longer. Simply add several short, 30-second bursts of faster-than-usual walking to your routine. In between these mini-power walks, return to your usual pace. This alone could add an extra four to five years to your life.
Our bodies were created for movement, not for sitting behind a desk all day. You have to move it if you want to lose it! Start off on the right foot with just 20 minutes of brisk walking daily. Add a few minutes every day and eventually increase your time to 45 minutes or more. This gentle but effective physical activity will benefit your heart, help improve your digestion, boost your energy, and increase your metabolism. Make it extra fun by walking with a pooch or pal, exploring nature, or even strolling in your local mall.
More energy. A short, brisk walk has both a calming and an energizing effect, according to research. And walking may help you feel more alert and well-rested because of its ability to improve the quality of your sleep. Walking at a moderate pace later in the day can help encourage deep, restful sleep. Finally, the mood boost you experience from walking may further enhance your energy levels.
A better night's sleep. In a study, people who walked more than six blocks per day reduced their sleep problems by one third. Walking at a brisk pace cut their sleep problems in half.
Thinking more clearly. Need to sort out some things in your head? Few activities help improve your perspective as quickly as a brisk walk, which will boost circulation in all parts of the body, including your brain. Some research has also shown that walking is associated with less cognitive decline and a reduced risk of dementia later in life. In addition to improving cognitive function, walking regularly can help you handle stressful situations and help you remain in control of your emotions, which clears the path for straight thinking.
Protect myself from diseases. Here is a short list of ways that walking can reduce the impacts of disease. Moderately intense activities such as walking can:
Reduce the risk of cardiovascular disease by as much as 30 to 50 percent
Decrease osteoarthritis pain and improve stability, endurance, and agility
Reduce the risk of colon cancer and possibly breast cancer
Protect against diabetes in high-risk people and lower blood glucose and improve insulin action in diabetics
Lower blood pressure and reduce the risk of heart attack
Lose weight. Although you might think that losing weight is the only way to enjoy an improved health profile, the truth is that regular walkers may not have to worry quite as much about what the scale says. Studies show that thin, sedentary people may have more markers of heart disease risk than overweight people who exercise regularly.
Feel happier in general. Protecting and nurturing your mental health is an important part of overall wellness, and studies show that walking regularly has the ability to lower your stress levels. Also, studies show that aerobic exercise such as walking may bring long-term benefits to your mental disposition by warding off both depression and anxiety.
A recent Harvard study showed that walking at a moderate pace, about three miles per hour, for up to 3 hours a week, or 30 minutes a day, can reduce the risk of heart disease in women by as much as 40 percent. For men, the benefits are comparable. Walking has also been shown to improve circulation, bolster the immune system, and help prevent osteoporosis, diabetes, and obesity.
Walking has loads of benefits! Below are just some of many:
Increased stamina
Increased energy
Increased bone density
Strong heart and lungs
Great aerobic activity
Light impact
As you can see, walking is great for your mind and body. Enjoy!
Scientists consistently show that physical activity improves general health and mood. One study followed about one hundred sedentary women for six months after they were asked to start walking 90 minutes per week. Most women did achieve the target walking goal. Seventy percent reported feeling more physically fit after walking, with almost half describing "more energy." Almost all of the women felt the walking made them "feel good," with mood improved in about one in five women and stress reduced in half.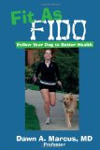 More About this Book
Fit As Fido: Follow Your Dog to Better Health
Let your dog teach you to live a happier, healthier, and more fulfilling life! Companionship with your pet can be used as a means and a motivator to increase your own physical and mental fitness....
Continue Learning about Benefits of Walking