Bananas contain vitamin C, B6 and potassium. Eating a diet low in sodium and rich in potassium may help decrease the risk of high blood pressure and stroke. Bananas are also a good source of fiber which helps with digestion making you feel full for a longer period of time helping with weight management.
Bananas are an excellent source of potassium and vitamin B6, and a good source of vitamin C, fiber, riboflavin, magnesium, biotin, and carbohydrates. Since they have a lower water content than most fruit, bananas typically have more calories as well as a higher sugar content. A 31/2-oz (100 g) serving is a small (61/2-inch) banana and provides 89 calories, 1.1 g of protein, 0.3 g of fat, and 22.8 g of carbohydrate, with 2.6 g of fiber and 12.2 g of natural sugars (glucose, fructose, and sucrose), 358 mg of potassium, 27 mg of magnesium, and 5 mg of calcium.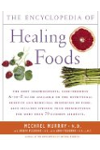 More About this Book
Encyclopedia of Healing Foods
From the bestselling authors of The Encyclopedia of Natural Medicine, the most comprehensive and practical guide available to the nutritional benefits and medicinal properties of virtually everything...
Bananas are a delicious, convenient addition to a healthy diet. They have about 110 calories per serving (or one medium-sized banana).
Nutrients in a banana, per serving:
Vitamin B6 -- .5 mg
Manganese -- .3 mg
Vitamin C -- 9 mg
Potassium -- 450 mg
Dietary Fiber -- 3g
Protein -- 1 g
Magnesium -- 34 mg
Folate -- 25.0 mcg
Riboflavin -- .1 mg
Niacin -- .8 mg
Vitamin A -- 81 IU
Iron -- .3 mg
Benefits of Bananas:
Safe and pure enough for baby's first solid food, according to the American Academy of Pediatrics
Bananas are a terrific, heart-healthy food when included in a diet low in saturated fat and cholesterol. While many factors affect heart disease, diets low in saturated fat and cholesterol may reduce the risk of this disease.
Naturally fat-, cholesterol- and sodium-free
A good source of potassium, dietary fiber, manganese and vitamins B6 & C
Continue Learning about Bananas