Bananas are packed with nutrients, especially potassium. An averaged-sized banana contains 440 mg of potassium and only 1 mg of sodium. Potassium is one of the most important electrolytes in the body, helping to regulate heart function as well as fluid balance. It is also a key factor in regulating blood pressure.

The effectiveness of potassium-rich foods, such as bananas, in lowering blood pressure and protecting against heart disease and strokes is well accepted and bolstered by considerable scientific evidence. For example, in one landmark study, researchers tracked more than 40,000 American male health professionals over four years to determine the effects of diet on blood pressure. Men who ate diets higher in potassium-rich foods had a substantially reduced risk of stroke.

Bananas are very soothing to the gastrointestinal tract due to their high content of pectin, a soluble fiber that not only lowers cholesterol, but normalizes bowel function. In addition, plaintain bananas have shown some promise in the treatment of peptic ulcers.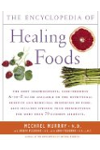 More About this Book
Encyclopedia of Healing Foods
From the bestselling authors of The Encyclopedia of Natural Medicine, the most comprehensive and practical guide available to the nutritional benefits and medicinal properties of virtually everything...
When it comes to health, an apple a day may be pretty sweet, but just half a banana daily can help keep cancer at bay. In this video, diet and disease prevention specialist Dr. William Li discusses this special health benefit of eating bananas.
Much loved by young children, bananas are highly nutritious. They provide fiber and carbohydrate, vitamins (especially B6) potassium, calcium, iron, zinc and folic acid. Ripe bananas contain enzymes that aid digestion; they are good for treating diarrhea as they act as a stool binder as well as an antimicrobial agent. In addition they have antibacterial properties. The insides of banana skins are often rubbed on cuts and wounds to disinfect them. With all these qualities, it is no wonder that bananas are offered to the gods in Hindu religious ceremonies.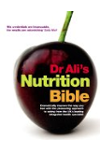 More About this Book
Dr Ali's Nutrition Bible
Each of us is unique, so it makes sense that no single diet will work for everyone. In the "Integrated Nutrition Bible", physician to the stars and best-selling author Dr. Ali offers a pioneering new...
Continue Learning about Bananas