Visceral fat, or abdominal fat, is a type of body fat that is around your waist. It surrounds internal organs. Everyone, no matter how thin has some. High amount of visceral fat is associated with serious health conditions such as heart disease, types 2 diabetes, and high blood pressure. Though it is possible to lose, it requires a larger commitment than spot exercises, like sit ups or crunches; a combination of cardiovascular activity and a lean diet is typically required.
People gain visceral fat for a lot of reasons, including eating lots of high fat or high sugar foods, and not being active. Lifestyle factors, like not getting enough sleep or being stressed also increase the chances of developing this type of fat.zs
The unhealthy fat that collects around the waistline is often referred to as visceral fat, because it collects around the "viscera"-- your vital organs such as your heart, liver, and lungs. And it doesn't just sit there. Visceral fat is metabolically active, but instead of burning lots of calories, it prefers to release chemicals that affect your metabolism -- negatively. Put simply, it can impact the balance of your body's interlocking equations. Excess calories stored as body fat generate hormones that can cause weight gain while preventing the production of healthy substances that can lead to weight loss.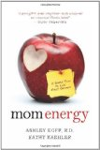 More About this Book
Mom Energy: A Simple Plan to Live Fully Charged
       From celebrated dietitian Ashley Koff and fitness trainer to the stars Kathy Kaehler comes Mom Energy, an exciting new way for moms to tap into their own natural and renewable sources of...
Continue Learning about Belly Fat