Sure, you know that fat lives on your hips, but it also lives in your blood. If you were to take a vial of blood and let it sit (I don't recommend doing this at home), you'd see a layer of clotty cream that would rise to the top of the vial, sort of like tiramisu. That's fat.

How did it get there? (Half-credit if your answer was tiramisu.) It's absorbed via the intestines. But the key player is the omentum (the abdominal fat storage facility). And why should we care about that organ that sounds like it's missing a letter 'm'?

Because the omentum can store fat that is quickly accessible to the liver (meaning it can cause lousy cholesterol and triglyceride levels to rise) and also sucks insulin out of circulation (making your blood sugar rise)—meaning that this cream-converted fat sets up shop in the omentum and puts your organs within very close striking distance of a hammer.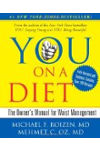 Continue Learning about Belly Fat