When people are under stress, their bodies release high amounts of steroids into their bloodstream in the form of cortisol. In acute stress (a car accident), steroids stick around only briefly. But when you're under chronic stress (a bad marriage), your body needs to find a way to deal with those high levels of cortisol.
So your omentum clears the cortisol steroids because it has receptors that bind to them and can suck them out of the bloodstream (unfortunately, this doesn't necessarily reduce the stress level that you feel). The steroids turbo-charge the ability of omentum to store fat, so your belly fat (and subsequent waist size) become the best surrogate indicator of how well you are really coping with stress (despite what your brain might be claiming). That uptake of steroids throws your body in metabolic disarray by:
Making your omentum resistant to insulin so sugar floats around without being absorbed and used appropriately by needy cells, and this—
Chronically raises your blood sugar, which damages our tissues;
Super-charging your omentum with inflammatory chemicals that destabilize the delicate equilibrium of your hormones;
Forcing your omentum to pump high-octane fat directly into your liver—causing your liver to make even more inflammatory chemicals.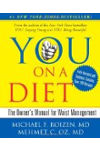 Continue Learning about Belly Fat