Each bone in the finger is 1.61 times the size of the smaller bone above it. That's the golden proportion -- something that no cracking or pulling can ever change.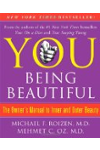 Continue Learning about Beauty & Culture
While people and cultures have different ideas of beauty, many women look to celebrities, fashion ads and online for cues on how to wear their hair and makeup, how to dress and how much they should weigh. Many women are influenced ...
by how skinny a celebrity appears. But trying to look younger, more attractive or thinner by your culture's standards doesn't necessarily make you healthier. Find out more about the influence of media and culture on beauty with expert advice from Sharecare.
More