Beauty doesn't just hint to other people that you'd be a great lover, produce beautiful children, and make others envious of your lucky mate. The judgments spread into much wider territory. Research shows that attractive people are judged more positively and assumed to be more competent and more exciting than unattractive people—even when there's other information available about them. The data shows that more attractive people are judged as better liked, more competent, and more exciting (all by about a 2-to-1 margin). Research also indicates that external beauty is linked to personality and behavior.

While there are certain biological and social influences on beauty, it does seem that the act of being judged attractive creates a kind of self-fulfilling prophecy that reinforces and internalizes certain behaviors and self-concepts. And guess what? Most of these crucial factors are ones you can change for the better.

Translated: When you look beautiful and feel beautiful and get that positive feedback from others, you keep doing things that make you look beautiful and feel beautiful.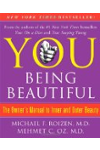 Continue Learning about Beauty & Culture