In essence, one is looking beautiful while the other is feeling beautiful. You don't have to be a screen star to know that outer beauty matters. Your skin, your hair, your body shape are all visual elements that contribute to (or detract from) your outer beauty. These may seem superficial, but they not only encourage people to make instant judgments about us, they're also important because how you look helps determine how you feel.

Indeed, looking beautiful is worth very little if you don't feel beautiful. There's no doubt in my mind that looking like diamonds doesn't mean squat if you feel like a wooden nickel. You can have the best hair, skin, and butt this side of Kalamazoo, but if you lack energy or your knees creak or you're sadder than a leashed kitty, then all your outward magnetism will be obscured—and fade fast. What can keep you from feeling beautiful? Fatigue, chronic pain, and destructive attitudes, to name three things on a very long list.

Now, there's a third type of beauty I like to call being beautiful. It relates to the quality and closeness of your relationships and the purpose you have in your life. I'm not imposing morality or making judgments about what's right and wrong when I refer to "being beautiful." In fact, I'm not really talking about behaviors. It's about your understanding of your life's meaning and definition.

The beauty of these three kinds of beauty is that they're all tied together: Looking good helps you feel good about yourself, which serves as the foundation for developing that sense of authenticity and deeper purpose so many of us crave as we search for meaning in our lives. These three interlocking elements—look, feel, be—work together to form what I believe is the ultimate goal in all of our lives: To feel good about yourself because you have strong self-esteem and a healthy, energetic existence that allows you to appreciate the subtle beauty of day-to-day life and, ultimately, know your purpose in life—and show off that purpose by helping others do the same.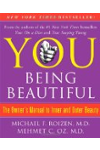 Continue Learning about Beauty & Culture