Inner beauty comes from accepting yourself for who you really are and loving that person. If you are having trouble accepting and seeing your inner beauty there are some excellent self-help books that can give you the tools to work on seeing your inner beauty. Another strategy may be to talk to a counselor who specializes in self-esteem and inner beauty. There is no easy trick to seeing yourself and loving what you see, it takes time and experience to see the unique gifts you offer to the world.
The lesson we can learn from body-weight issues and aging is that our inner beauty -- our authenticity and comfort in our own skin -- is what makes us beautiful. To catch a glimpse of your inner beauty, that which is looking out from your eyes, try this exercise: Look into your eyes in the mirror for 15 to 20 minutes and see what happens!

Through this exercise, it's possible to experience the truth of what you are because your visage gets lost in your looking. When you look into your eyes for a long time, it helps you break through the illusion of identifying yourself with your body. Is that face yours? Is it real? If so, why does it keep changing? You think your face looks a certain way but as you keep looking, you may see it morph into many other faces. The truth is that you're all of those faces -- the beautiful and not so beautiful -- and none of them.

This exercise helps you see that you aren't just one image. After all, no one image of you has stayed the same throughout your life. What you're looking at just comes and goes -- the beautiful and the ugly all appear. What's looking is what's true and real. The image, the appearance, is transitory. When we're at peace with that, other people relax and become very comfortable with us. We transmit ease and contentment when we're at peace with ourselves and how we look, and that allows others to be at peace, too.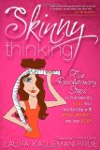 Continue Learning about Beauty & Culture