Ultimately, the greatest beauty secret is to live out our passions and connect with our own spirit. An extensive survey of women of various ages and nationalities, sponsored by Dove, found that "women feel beautiful when they are fully engaged in meaningful life activities. More than half of women say they feel beautiful when they help others (54%); spend time with their children (53%); achieve success (46%); are physically active (46%); do something artistic (39%); enjoy a hobby (39%); or dance (35%). Surprisingly, activities that are directly related to beauty, such as shopping for beauty care products (21%) and looking at fashion magazines (17%), were less likely to make women feel beautiful."
The report goes on: "Spirituality also plays a key role in helping women feel beautiful. Seventy-five percent of women agree that beauty comes from a woman's spirit and love of life, not from her looks. Additionally, 42% said that one of the times they feel most beautiful is when they attend a religious service." And the survey was not about when women felt good but about when they actually felt beautiful.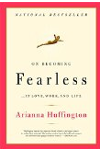 More About this Book
On Becoming Fearless...in Love, Work, and Life
Observing that her own teenage daughters were beginning to experience some of the same fears that had once burdened her--how attractive am I? do people like me? do I dare speak up?--Arianna...
Do you want to rekindle your relationship with skinny jeans? There are five steps to revive, renew, and reinvigorate a sexy you! If you commit to them, your high school body does not have to remain a photo in the yearbook.
Eat your way beautiful! The supermarket is an ultimate five star beauty destination. Good nutrition stimulates, detoxifies, and slims the body. Rev up your energy with high-complex carbs such as whole-grain cereal and beans. Stroll down the water aisle to cleanse the liver and kidneys while nurturing radiant skin. Spice up the shopping cart! A dash of cinnamon controls post-meal insulin spikes that cause hunger; thus, slenderizing the waist. Go nuts! Walnuts contain vitamin E, biotin, and copper which keep the luster in your locks. Natural beauty is only a bite away!
Physical fitness does a body good! Cardiovascular exercise and strength training can unleash that dynamic body lurking beneath months of inactivity. Zumba, Pure Barre, cycle, rollerblade, walk - it's all good. To see the maximum results, participate in 150 minutes of cardio per week and two days of weights. Need more motivation? Exercise can improve your sex life! Still sitting?
Exhale! Stress increases cortisol production causing excess belly fat. Add a personal daily retreat in the iPhone or Blackberry. Fifteen minutes of solitude each day can be healing and improve your mood and overall health.
Be a sleeping beauty. As you dream, your body shifts to repair mode. Good sleep habits refresh the mind, body, and spirit. They also decrease the dark circles and bags around the eyes. Go to sleep and awake at the same time everyday to set your body's clock which is key for peak performance. Not in bed yet, research has shown that good sleep hygiene helps with fat loss. Good night, sleep tight!
It's a secret: a little nip-tuck. Cosmetic surgery can add to a sense of well-being. Set realistic expectations and be comfortable with the surgeon who will reshape your body. Hypothetically, as a physician, if I were having a procedure, I would select a preeminent plastic surgeon like Dr. Brian Dorner of Capital City Cosmetic Surgery & Skin Health Center in Columbus, Ohio. If Columbus, Ohio is an option, Dr. Dorner offers a warm environment, friendly staff, thorough preparation, and amazing support during the recovery process. Moreover, his surgical skills are impeccable. Won't tell you how I know.
Rediscover and appreciate a beautiful you!
Continue Learning about Beauty & Culture