Perhaps the easiest tests of speed for baseball or softball players would be to start at home plate and measure the time it takes to run to each base (i.e. home to first, home to second, home to third, home to home). To make the test even more functional or game specific, have each player start in the batters box, swing the bat, and then take off as if running-out a hit in a game. A variation of this test is to start at first, second, or third base and measure the time it takes to run to home plate. You can start from a lead-off position (cross-over to sprint) or from a drop-step (back foot on base).
Continue Learning about Baseball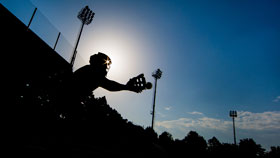 Baseball is a team sport that requires stretching, core training, and strength training. Due to the wear-and-tear on the arm, injuries to the shoulder and elbow are fairly common. Medical breakthroughs, such as Tommy John Surgery, ...
have allowed injured players to make a full recovery and return to the field.
More