The American Hair Loss Council reports that patchy hair loss, also called alopecia areata, affects millions of men, women and children to various degrees. This non-scarring, inflammatory condition is usually temporary. It comes in episodes by nearly 90 percent of those who have it. Alopecia areata is thought to be an autoimmune disease where cells from an individual's own immune system prevent hair follicles from producing hair fiber. In most cases, the body will reverse the problem over time. However, those affected even temporarily can experience low self-esteem and depression. Often, they need help from family and friends.
The National Alopecia Areata Foundation says only about 20 percent of alopecia areata cases are hereditary, unlike androgenic alopecia (permanent patterned balding), where heredity plays a more prominent role.
No diagnostic test has been developed for alopecia areata, but an experienced dermatologist most often can identify it. Doctors sometimes need to take a small skin biopsy for a definitive diagnosis. The disorder causes patchy hair loss, often appearing as smooth patches on small areas at various locations on the scalp (occasionally, on other body parts as well). These patches can appear suddenly, as quickly as 24 hours, and some people report feeling tingling or pain at the site.
Various types of alopecia areata include:
Alopecia totalis - An advanced alopecia areata resulting in total hair loss on the scalp
Alopecia universalis - Another advanced alopecia areata resulting in hair loss over the entire body
Traction alopecia - Where hair loss is caused by physical stress and tension on the hair.
These stresses can include prolonged use of hair weaving or braiding (braids pulled too tightly on weak hair have been known to cause permanent hair loss.)
There are many reasons for hair loss. One of the most common causes is alopecia areata, in which hair disappears in circles on the scalp.

In some cases, hair loss is scattered. In other cases, it can cause total baldness. As hair begins to regrow, new circles of hair loss may appear in other areas.

The cause of alopecia areata is probably an autoimmune reaction. Immune cells of the body seem to attack hair follicles, leading to hair loss. No one knows why immune cells make this mistake, but genetics may play a role.

There is no cure for alopecia areata, but there are ways to encourage hair growth. Cortisone cream applied to the areas with no hair can sometimes stimulate hair growth. In cased of severe hair loss, injections of cortisone can be effective. The drug anthralin (Drithocreme, Dritho-Scalp, Micanol) produces mild irritation of the scalp. This can stimulate mild hair growth.

With alopecia areata, hair usually grows back within a year. Because there are other causes of hair loss, and because alopecia areata can differ widely in extent and appearance, it is important to see a doctor for the correct diagnosis and treatment.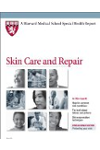 More About this Book
Harvard Medical School Skin Care and Repair
Where can you get authorotative advice on skin care? There's plenty of advice out there on TV, the internet and in the aisles of stores peddling skin care products. Despite the abundance of products...
Continue Learning about Baldness and Hair Loss