When a boil turns into an abscess (large collection of pus), it might need to opened, drained, cleaned and then packed in order for it to heal, called an incision and drainage. This might be done by an emergency medicine (EM) doctor or by a surgeon in the operating room (OR). This is a painful procedure so it is often done in the OR.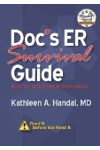 More About this Book
Doc's ER Survival Guide (DocHandal's Guides)
Few people get through life without at least one trip to the emergency room (ER), either as a patient or support person for a family member or friend. Doc's ER Survival Guide is designed to help...
Continue Learning about Bacterial Infections

Bacterial infections like typhoid, strep throat and some sexually transmitted diseases are infections caused by different types of bacteria. These infections are often treated with doctor-prescribed antibiotics. Either viruses or ...
bacteria can cause infections, so it's important to get examined by a doctor to make sure you're prescribed the correct medication.
More