Why do so many people have back pain?
Almost everyone has had back pain. From the most active individuals to the most sedentary can be prone to back issues caused by too much exercise, bad posture, heaving lifting or long periods of hovering over a laptop without a proper sitting position.

You are also at risk for back pain if you aren't physically active, are overweight, are prone to accidents, or have an underlying condition that causes the pain, such as arthritis. Chronic back pain can also stem from spinal nerve, muscular and ligament problems, and degenerative disc disease.

Back strengthening and stretching exercises can lower your risk for back trouble. Sometimes, it can be just a matter of better posture and remember to sit up with your back straight when sitting at your computer for long periods of time.
Sitting and slouching for long periods can weaken your core and your back and cause pain. And in many people, this can progress as the disks of the spine start to degenerate with age. Watch Dr. Oz talk about causes of back pain.



Continue Learning about Back Pain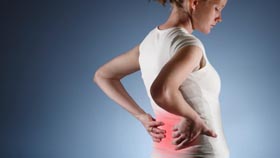 Just about everyone has experienced some level of back pain. It is one of the most common ailments brought on by disease, injury, or misalignment of the spine. It can be a dull muscle ache in the lower back or a severe, sharp pain ...
in that affects your ability to bend over or stand up straight. Most often back pain results from strained muscles and ligaments that surround the spine, but it can also be caused by structural problems with the bones of the spine. There are treatment options for back pain, and understanding the causes and symptoms is key to preventing it in the first place.
More