In this video, Sara Wilson, NP, from West Valley Spine Center, explains how sleeping on your stomach can cause back pain. The strain and stress are caused by extending your spine further than normal.
Sleeping on your stomach can put some abnormal stress on your spine, and that can cause pain or some stiffness. Any time you experience some stiffness, try to gently stretch it out in the morning.
When there is no acute neck or back pain, you can sleep in almost any comfortable position. However, if you regularly go to sleep feeling fine and then wake up with pain or stiffness, you probably sleep on your stomach, and that habit has to be changed. When you are on your stomach, the lumbar spine is completely unsupported, and the neck is forced to turn to one side. This causes a prolonged strain on the spinal tendons and ligaments and leaves you feeling like you've just slept on a log instead of like a log. If you have a hard time breaking the stomach-sleeping habit, try lying on one side with the top leg slightly bent at the knee, and then place an extra-long, thick pillow under your chest. This will give you the same feeling as sleeping on your stomach, but most of the unsupported downward strain will now be taken away from the lower back. Some people have found that placing a small pillow under the top knee or between the knees also helps relieve lower back strain.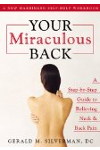 Continue Learning about Back Pain