One solution for herniated disc pain is to try white willow bark, a natural anti-inflammatory that contains salicin and salicylate (chemicals found in aspirin), along with other compounds that have analgesic effects. Take as a tincture by adding 4 to 6 ml to a glass of water. Consume up to three times a day.
This content originally appeared on
doctoroz.com
Continue Learning about Back Pain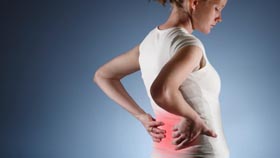 Just about everyone has experienced some level of back pain. It is one of the most common ailments brought on by disease, injury, or misalignment of the spine. It can be a dull muscle ache in the lower back or a severe, sharp pain ...
in that affects your ability to bend over or stand up straight. Most often back pain results from strained muscles and ligaments that surround the spine, but it can also be caused by structural problems with the bones of the spine. There are treatment options for back pain, and understanding the causes and symptoms is key to preventing it in the first place.
More