We have three firmly implanted perspectives and expectations about back pain:

1. Back pain is no big deal -- This kind of pain is not serious and usually goes away in a short time. There is little need for extensive investigation or treatment, and more importantly, there is even less need for worry.

2. Back pain is all in your head -- If neck and back pain doesn't respond to bed rest and pills, it may become a chronic condition that is not easily treated or resolved and may actually be all in the patient's head.

3. Severe back pain requires surgery -- The most severe neck and lower back pain cases are caused by herniated discs that require dangerous surgical corrections.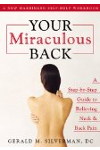 I think one of the most common misperceptions about back pain is that some else can fix it for you. You are the only person who controls your body. Therefore ultimately you must be the one to fix your pain by addressing the movement habits that are contributing to that pain.
Here are some myths about back pain:
Myth 1: Bed rest is best.Not true. In fact, research has shown that bed rest for more than a day or two can be harmful. To keep from getting worse, keep moving!
Myth 2: If the pain is bad, there must be spinal damage -- or something is out of place.
That's usually not true. Fortunately, your back is blessed with a strong and flexible bony spine that is reinforced by ligaments and surrounded by large, powerful muscles. So it's very difficult to damage the spine or dislocate anything. However, there are times when you should call your doctor.
Myth 3: Low back pain always requires special tests and treatments ordered by a doctor.
Not true. Imaging tests such as X-rays and magnetic resonance imaging (MRI) are usually not needed and may lead to unnecessary procedures. Your doctor can usually rule out serious causes with a medical history and physical exam.
Continue Learning about Back Pain