Ask your doctor why you have pain in your back, says Andy Hecht, MD, co-director of Spine Surgery at The Mount Sinai Medical Center. In this video, he explains why the diagnosis is important to make sure you get the right treatment.
The two important questions you must ask your back and neck pain doctor are:

What is the diagnosis? The practitioner's response to this question should make sense to you. Your diagnosis should result from a combination of your symptoms, clinical findings, and any X-ray or magnetic resonance imaging (MRI) tests you may have had. If the doctor's diagnosis is primarily based on an X-ray or MRI, it may not accurately represent your true situation. Don't be intimidated or shy about asking follow-up questions or requesting additional explanations. The consultation time is not only for the doctor to get a sense of what your problem is, it is also a time for you to get a sense of what kind of practitioner the doctor or therapist is.

How long will it take? While no one has a crystal ball, and doctors and therapists should never guarantee results, they also should never give evasive or noncommittal responses such as "Every case is different" or "These things take time." You are not asking about most cases, you are asking about your case, and you already know that everything takes time. A knowledgeable and experienced practitioner will have specific answers. Vague and noncommittal responses show a lack of motivation and a less-than-dedicated desire to expedite your results. There may be times in your treatment when you hit roadblocks or plateaus, and if you aren't getting basic questions answered in a clear and definitive manner, chances are that professional won't be much help in uncovering or removing hidden obstacles if they arise.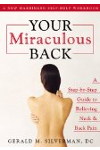 Continue Learning about Back Pain