Can stretching my hamstrings get rid of my low back pain?
Tight hamstrings can cause problems with your posture, the way you walk, and the way you support your back during daily activities. Stretching your hamstrings is not a guarantee to get rid of the low back pain, but I think general strengthening and flexibility is definitely recommended.
The hamstrings, a group of three muscles located in the back of the thigh, can contribute to lower back pain. So keeping the hamstrings properly stretched and limber is a good formula for relief of lower back pain or sciatica pain, which tends to run down one side of a leg.

A regular routine of hamstring stretching eases tightness that generates stress on the low back. The hamstrings run from the pelvis down to the knee. They give you the ability to bend the knee and extend the hip.

Typically, daily physical activity rarely stretches the hamstrings. Stretching exercises are needed to keep them healthy and extended. When doing any type of hamstring stretch, avoid bouncing and enter a stretch gently. Hold the stretch for 10 seconds to start, increasing gradually to 30 seconds.
Tight hamstrings can cause back pain.
Tight hamstrings typically come from:
1. Weak abdominal muscles
2. Tight hip flexor muscles (front of your hips)
3. Weak gluteal muscles
I recommend the following exercises:
- Perform 2 sets of 2 seconds of each stretch
[media id="DEV__4c838f581b4dd2_29859574" title="90-90 Outer Hamstring Stretch"]
[media id="DEV__4c84d73d4d4560_52445351" title="Kneeling Hip Flexor Stretch"]
- Perform 2 sets of 10 reps of the strengthening exercise
Tight hamstrings can restrict movement of the pelvis and can lead to low back pain/injury. There are many causes of low back pain and tight hamstrings are one of many potential contributors. Always best to consult a health care professional when searching for causes/treatments for low back pain.
The sensation of tightness in the hamstrings can be due to various reasons. Typically it can be from poor postures, altered movement and walking patterns, or compensation due to other muscles being weak such as the gluteal muscles. The hamstrings attach to the bottom of your pelvis. With tightness, it can pull on the pelvis causing it to put more stress on the pelvis and back. In these cases, education to mildly elongate or stretch the hamstrings may help. Regardless, it is more important to retrain the proper strength and movement patterns of the legs and trunk so proper mechanics of the back can be restored.
Sometimes tightness in the hamstrings can also be a protective mechanism from underlying nerve pathology in the sciatic nerve. We have seen patients trying to stretch their hamstrings and instead develop sciatica as stretching irritated the nerve rather than stretch the muscle. Further differential diagnosis of the hamstrings and their relationship to low back pain should be determined by a qualified health care practitioner.
Tight hamstrings can restrict movement of the pelvis, which can cause a compensatory increase in rounding of the low back. This increases the forces on the lumbar spine during forward bending, which can lead to injuries in the low back. However, there are many causes of low back pain, with tight hamstrings being only one of many potential contributors to the problem. Additional causative factors and potential treatments should be explored with a health care professional.
Continue Learning about Back Pain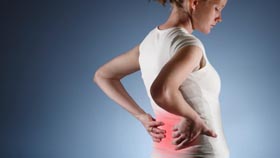 Just about everyone has experienced some level of back pain. It is one of the most common ailments brought on by disease, injury, or misalignment of the spine. It can be a dull muscle ache in the lower back or a severe, sharp pain ...
in that affects your ability to bend over or stand up straight. Most often back pain results from strained muscles and ligaments that surround the spine, but it can also be caused by structural problems with the bones of the spine. There are treatment options for back pain, and understanding the causes and symptoms is key to preventing it in the first place.
More