Watch this video to hear Sara Wilson, NP, from West Valley Spine Center, explain how spinal stenosis can cause frequent bowel movements and urinary incontinence, due to the compressed nerves impacting the internal organs.
The more worrisome bowel symptom in spinal stenosis is bowel incontinence where you have bowel movements unexpectedly and without your control. This may be a surgical emergency called cauda equina syndrome and should be evaluated immediately.
Continue Learning about Back Pain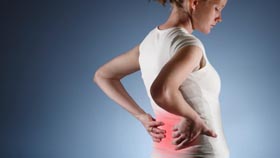 Just about everyone has experienced some level of back pain. It is one of the most common ailments brought on by disease, injury, or misalignment of the spine. It can be a dull muscle ache in the lower back or a severe, sharp pain ...
in that affects your ability to bend over or stand up straight. Most often back pain results from strained muscles and ligaments that surround the spine, but it can also be caused by structural problems with the bones of the spine. There are treatment options for back pain, and understanding the causes and symptoms is key to preventing it in the first place.
More