MRI: Not the Whole Story
Since we started using MRI routinely to help treat back problems in 1994, success in treatment actually decreased. How can that be? For most orthopedic pathologies, the MRI (magnetic resonance imaging) is the diagnostic tool for physicians to determine the existence and severity of a problem. It is a non-invasive medical test that can help doctors diagnose and therefore know how to treat a variety of medical conditions. It can detect problems that traditional x-rays and CT scans cannot by providing images of soft tissue structures like discs and cartilage. So why then are we having less, not more success in treating back problems?
The reason success in treating back pain has gone down is because we see pathology on the scan and feel eager to fix it. And though the surgery takes care of what looks offensive, it often does not solve the core problem, or it creates another set of problems.
MRI, though used routinely has a few shortcomings: First, it's very expensive. Second, it only focuses on one region of the body- usually the region of pain – and when the area of pain is not the cause of pain, we can be misled. Third, MRI does not look at the body in motion, which is when many problems present themselves. And maybe most important of all, when one can see so much, and so much that looks pathological, who really knows what the culprit is?
If the findings from the MRI do not make sense in light of your symptoms, I would continue to seek non-surgical interventions to find relief.
Magnetic resonance imaging (MRI) cannot always show which herniations are problematic. Because MRIs reveal so many herniations in pain-free people, and herniation of the nucleus pulposus (HNPs) respond to most conservative treatments anyway, MRI findings have little if any use in determining early therapy options. Most guidelines now call upon physicians to delay referring patients for an MRI unless there is recent, severe trauma or the patient has significant, unrelenting radiating pain for more than one month.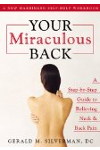 Continue Learning about Back Pain