Radiofrequency (RF) ablation for back pain is a treatment that uses heat produced by RF energy to damage the tiny nerves responsible for sending pain signals to the brain. With the connections interrupted, people may experience months of symptom relief. Certain people with chronic back pain originating in the facet and sacroiliac joints may be candidates for RF ablation,

To perform RF ablation, a needle with an imbedded wire is used to deliver energy from the needle's tip to the treatment site while people are sedated. The procedure heats a small area around the targeted nerve, while just a few millimeters away, body temperature is normal.

Trinity Health is a Catholic health care organization that acts in accordance with the Catholic tradition and does not condone or support all practices covered in this site. In case of emergency call 911. This site is educational and not a substitute for professional medical advice, always seek the advice of a qualified healthcare provider.
Radiofrequency ablation, also known as RFA, can help patients with chronic lower back and neck pain, and pain associated with the degeneration of joints from arthritis.

RFA uses heat to temporarily block the nerves that send pain signals from the facet joints of the spine to the brain. Although temporary, the effects can last for up to a year or more in some cases. High frequency waves are used to create a lesion in the nerve, with the aim of preventing the transmission of pain.

The majority of patients treated with RAF experience some degree of pain relief, but your doctor will determine if the minimally invasive procedure is right for your chronic lower back pain.

The main side effect of RFA is discomfort, swelling or bruising that generally goes away in a few days. There is a slight risk of infection or bleeding at the insertion site.
Radiofrequency ablation means applying heat energy to a painful nerve to reduce pain signals from the area, such as in lower back pain where it may be combined with injection therapy. This video gives more information about radiofrequency ablation for lower back pain.



Continue Learning about Back Pain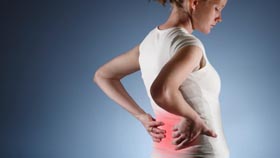 Just about everyone has experienced some level of back pain. It is one of the most common ailments brought on by disease, injury, or misalignment of the spine. It can be a dull muscle ache in the lower back or a severe, sharp pain ...
in that affects your ability to bend over or stand up straight. Most often back pain results from strained muscles and ligaments that surround the spine, but it can also be caused by structural problems with the bones of the spine. There are treatment options for back pain, and understanding the causes and symptoms is key to preventing it in the first place.
More