The abnormal narrowing of the cervical spine of the neck can lead to numbness. Narrowing in the upper spine can cause numbness, weakness or tingling in a leg, foot, arm or hand.
In severe cases, nerves to the bladder or bowel may be affected, leading to incontinence or retention.
You should see a doctor if you have persistent pain, numbness or weakness in your back, legs or arms.
Stenosis anywhere in the body can cause numbness in any area of the body below the stenosis. The first thing I would address is the inflammation. As an Ayurvedic practitioner and Chiropractor, I look to reduce the inflammation through herbs such as Boswellia and Gugglu, as well as supplement with B vitamins.
As Chiropractor I find that a Chiropractic adjustment even to an unrelated area to the Stenosis can reduce the pressure on the nerves and spinal cord as a whole.
Absolutely. Numbness of the arms and/or legs are very common in spinal stenosis.
Continue Learning about Back Pain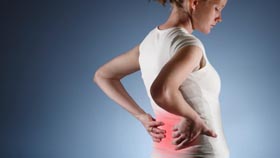 Just about everyone has experienced some level of back pain. It is one of the most common ailments brought on by disease, injury, or misalignment of the spine. It can be a dull muscle ache in the lower back or a severe, sharp pain ...
in that affects your ability to bend over or stand up straight. Most often back pain results from strained muscles and ligaments that surround the spine, but it can also be caused by structural problems with the bones of the spine. There are treatment options for back pain, and understanding the causes and symptoms is key to preventing it in the first place.
More